Course  Descriptions
Jazzmaster Workout Classes and Lessons by Jim Grantham
Our main goal is the propagation and support of live, creative, improvisational music. In the face of increasing conformity and commercial hype, we work to promote the sound of the individual spirit. We play, produce, teach and encourage all forms of jazz. The Jazzmaster Workout can be used by jazz improvisation instructors and students anywhere in the world. However, students in the San Francisco Bay Area have the additional opportunity to learn directly from creator Jim Grantham.
Private Lessons
Theory, Musicianship, Improvisation (all instruments)
The technique of Saxophone & Flute
$100 for 1.5 hours or $125 for 2 hours
Private Lessons are the most effective way for students to get the Jazzmaster Workout program individualized for them. This format allows a student to pick a convenient schedule, proceed at their own pace, get personal feedback on abilities and problems, and work on personal projects and performance. Many students take the Jazz Theory classes for the information and eartraining and also take private lessons for performance abilities and personal coaching. Private lessons are usually every other week.
For a basic outline of content covered in Private and Group Private lessons, use the Group Class table below. There is also additional content based on the individual student.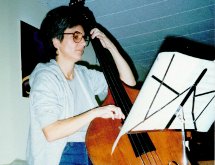 Group Private Lessons
Theory, Musicianship, Improvisation (all instruments)
2.5 hours, typically every other week
$50-$75/class paid in advance for a 5-lesson series
For small groups of students wishing to save money. Group lessons are from 2-5 students and pro-rated based on enrollment. GPLs meet every two weeks and require a deposit for 5 weeks up front. GPL are also flexible on meeting times based on group agreement. If you have friends who wish to get together to save money this is proving to be a very effective option. Call for info.
Group Classes – Jazzmaster Workout Workshop Series
Theory, Musicianship, Improvisation (all instruments)
$295 for one 8-week series or $50 per class
The Jazzmaster Workout classes are a progressive set of six 8-week workshop series. The 2 1/2 hour classes alternate a week of theory and ear-training with a week of practical application, meeting weeknights from 7:30–10 PM. All workshops use the Jazzmaster Cookbook, featuring the Jazzmaster Workout Improvisation practice method by Jim Grantham. All instruments are welcome.
All classes offer intensive musicianship training and in-depth improvisational theory. These are not jam sessions. The classes are highly structured and include extensive ear training, theory, and practical practice techniques. Advanced classes involve tune writing and in-depth analysis of standards and jazz tunes.
No classes are currently being offered.  To get on a mailing list that announces new classes or groups and upcoming gigs please send your name and email to Jim at jim@jazzmasterworkout.com and request to be on the mailing list.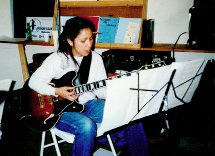 Jazzmaster Workout Improvisation Method
All classes and private lessons are based on the Jazzmaster Workout improvisation practice method, which introduces topics in a logical fashion and provides the framework for much more intensive woodshedding after the classes are completed.
There is a required Theory book and Workbook (combined into one book entitled the Jazzmaster Cookbook) for the series. The Jazzmaster Workout CDs are optional but are highly recommended for those students who really want to advance their playing technique.
For strong, self-motivated students the world over, it is possible to acquire the Jazzmaster Workout Theory book, Workbook and CDs and work on your own. However, the classes are designed to ensure a complete and thorough assimilation of both the theoretical and practical concepts.